10 Albums, 10 Beers
I compile a list of my favorite albums every year, but this is the first time I've tried to explain my choices. Taking my burgeoning curatorial efforts a bit further, I'm sort of pulling back the curtain on genius, so to speak, by revealing some of the delicious beverages I consumed during the course of last year's music discovery and making recommendations on a pairing for each album. As far as I can tell, this is a first in the annals of music and food writing, so you can tell everyone you read it on IMP first!
Before you read on, I would like to state a few things. First, I don't write music reviews; this is my first attempt at the format, so I apologize for the lack of professionalism. Second, I like beer... a lot. But I am not an IPA fan—just can't handle the bitterness—so you may be disappointed if you're mad for hoppier brews. Finally, I encourage you to visit Stinkweeds in Phoenix, Arizona, to pick up any of the music on my list and the City Beer Store in San Francisco, California, to sample some of the beers. These local, independent stores have the best staff and recommendations, they lack pretense, and they have each been a major purveyor of music and merriment for me over the years. Now, on with the list: bottoms up, and headphones on!
10. Babybird
Ex-Maniac
(Unison)
Babybird (né Stephen Jones) has been on my mind since his Bugged album hit 10 years ago. Sure, he developed an identity crisis and went back and forth between real name and nom de rock, but here he found his birdlike soul and returned to what he does best: penning and performing near-perfect pop songs, even if no one hears them. Ex-Manic is simple and fun and complex and horrifying all at the same time. "Failed Suicide Club" is an innocent-sounding 12-step song that condemns ending one's life but slyly suggests celebrating suicide's success. On "Bastard," he gives the listener all the warning signs and draws a line in the sand, then spits on it before stepping over.
Beer Pairing: Consecration
Russian River Brewing Company
(Santa Rosa, California, U.S.A.)
This is an obvious choice with the mighty Babybird: sour and dark, yet somehow pleasant. A bottle of this could help Stephen Jones find the higher power for which he is seemingly always searching.
9. Moondoggies
Tideland
(Hardly Art)
In most cases, the very best new bands' first albums come on like a firecracker and stir up the music scene. However, 2008's Don't Be a Stranger only hinted at the genius that would become Moondoggies's Tideland. Moreover, it's great to hear the band break from the pigeonhole that is the Americana label. The band members' affection for each other is audible, and their maturity is most evident in the subtle layering of sound on "Empress of the North" and "We Can't All Be Blessed." A couple chords and some harmonies are all it takes to secure this one as an excellent entry from a band to take seriously.
Beer Pairing: Midas Touch
Dogfish Head Craft Brewery
(Milton, Delaware, U.S.A.)
I have a lot of Dogfish beers on this list. I tried to branch out, but there is no denying the joys this brewery has given me. Midas Touch is just one example of them taking an old recipe and making it something new and bold, just as Moondoggies did with Tideland. When enjoyed together, the album will take you on a journey, and the beer will imprint that journey in your memory forever.
8. Plants and Animals
La La Land
(Secret City)
I don't go to shows as much as I used to. I'm just too old to stay up until 3 A.M. anymore. However, Plants and Animals gives me that young feeling again. Based on their albums, I had guessed the band included as many as six members, so imagine my surprise when three moderate looking dudes sauntered onto the stage and delivered the best performance I saw all year. I cherished 2008's lovely Parc Avenue, but La La Land feels tighter and more poised, and the songs set the stage for a show the band seemed to thoroughly enjoy. Each song is epic and poignant. Long live progressive rock!
Beer Pairing: Bøgedal
Bøgedal Bryghus
(Vegle, Denmark)
Hailing from Scandinavia's only all-gravity brewery, Bøgedal is never the same twice. Each bottle is complex and lovely in its own right, not unlike each song on Plants and Animals's second album. Both use the simple side of life to make and introduce amazing flavor.
7. Deer Tick
The Black Dirt Sessions
(Partisan)
I'm not going to lie: John McCauley's voice sounds like he got kicked in the balls, and not just some of the time, but all of the time. Strange then how much it works to his advantage on these songs, which will knock you on your ass. This album comes from within and, at times, it seems like John is the only one in the studio, alone and tired. Defeat never sounded so good as on album standouts "Goodbye, Dear Friend" and "Christ Jesus."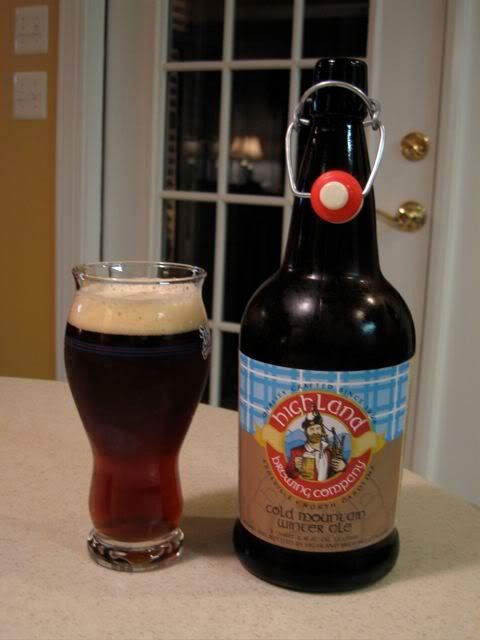 Beer Pairing: Cold Mountain Winter Ale
Highland Brewing Company
(Asheville, North Carolina, U.S.A.)
This beer is as dark and rich as Deer Tick's folky subject matter and adds a hint of bitterness in response to John McCauley's melancholy voice.
Click here to continue on to Page 2 of "10 Albums, 10 Beers."